| By
What has happened since May of 2020, when I last blogged? For some, death, For others, birth. And everything in between birth and death in peoples' lives --- joy, sorrow, delight, anguish, thrills, despair. Acceptance, rejection. Hope, hopelessness. Wins, losses.
Personally, perhaps all of the above! Last summer witnessed an immense loss of business, but thru that, thanks to Jen and Adam, we developed a now significant part of our business, the virtual classes. While some do not prefer virtual, others delight in attending their classes from bed on a Sunday morning, or in the restaurant on Monday afternoon, alone or with a group. No travel, or bad pizza for lunch, or a crowded hotel meeting room, or getting lost, or forgetting your book, or pencils and photo ID. Other put up with those things for the great sense of community that classroom provides. And energy, And fun. I definitely prefer classroom, but love not having to travel---delayed flights, heavy luggage, lonely hotel rooms, lost Ubers, classrooms not set up properly, late pizza deliveries, hotel coffee. Life has many tradeoffs. Luckily for me, I don't often choose. The choice has been made for me, I just choose my responses.
Last year, I went through a difficult divorce. I suspect that's a redundant term, as all divorces must have some sort of pain and loss, dealt with or not, addressed head on or denied. Mine was getting a divorce from a woman I loved and still do. We just couldn't seem to living together! I suspect we shall be better off as best of friends.
The loneliness of last year's 'lock-down' produced mild depression. I know I am not alone in that! But even during those trying months, I read more than I had in the last 10 years, and had wonderful times of meditation and contemplation. It was a very good time for reflection, prayer, and spiritual growth.
Finally, upon returning to Chicago to be closer to my boys, ex-wives and Yankee friends, I was diagnosed with having inoperable, stage 4 stomach cancer. While the prognosis isn't generally great (3-5 years with chemo), there are always exceptions. I happily accept God's will, and don't ask 'why'. I have been blessed with an amazing life, filled with a beautiful family, great friends, and lots of fun (much of it not CFA-approved, hence the 'squarebadge' status).
I may blog once a month, or twice a year. Or maybe not at all. But I do miss my work, and this helps me stay connected, which I think is something we must all be intentional about.
Love,
Peter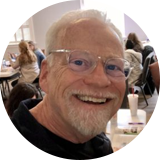 | By
"In this together". That was all that was on the billboard. I am assuming it was referring to our all being affected or connected by the coronavirus. Well, I suppose that's true. Yes, the coronavirus is a 'great' equalizer, like the weather.
If this pandemic has done a few 'good' things, one is that it has brought all sorts of people together. Strange, isn't it, that with our 6-ft rules, our quarantines, our lack of public outings and events, our social distancing —it seems to have, in many ways, connected us much more than ever, but in different, maybe even more meaningful ways. I suppose because we have a
'common enemy' that transcends color, creed, economic status, political persuasion, nationality. We are all united against the devastation brought forth by the virus. How moving to see a factory worker who used to assemble trucks postpone his retirement to now help make life-saving ventilators. Or to see scientists working frantically to find a vaccine.
Or trash collectors, or doctors and nurses, or delivery people with food or medication, or transit workers, or restaurant workers…all risking their own health for the benefit of others. The stories of service seem endless.
Looking ahead, much is being discussed regarding the 'new normal'. More 'virtual' activities, more distancing, more sanitizer, more space. Less travel, less profit, less large gatherings, if any. At least for some time, some things may change. And yet, I wonder: When the pandemic is over, and the enemy has been defeated, what will have really changed? I wonder if all the good that happened during the crisis will stop. When we will stop being 'in this together"? Will we forget the heroics, the sacrifice, the kind words, the small gestures, or the life-saving steps taken during the pandemic? Or will we all just go back to our old lives, old old routines, and our old ways of a different kind of isolation from others?
That would be the real tragedy in this story —- if we don't learn from this pandemic. If we act as if it didn't happen, and we only hope it never happens again. If we don't learn and grow and change from all of this. If we don't re-evaluate, re-examine and re-direct. Will I be a 'first responder' to someone in need? Or better yet, a first initiator? After all, there is always someone in a personal time of crisis who needs help. We all have times of crisis, often unspoken, more often unaware to others, but very real. Will I be there to help, or will I look away?
This pandemic will pass, but it will leave in its wake a society shaken to its core physically, emotionally, economically. It will be then, more than ever, that we must heed the billboard's message, but with one small addition:
"In this together…always". - Peter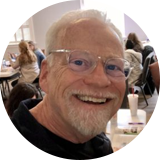 | By
This is unquestionably a unique Holy Week.
"Most 'normal' Holy Weeks, I would fly back to Chicago to be with family and friends and hopefully attend a Seder with my Jewish friends/family (if Passover dates coincide) and Easter with my family/friends. I would eat matzoh and bitter herbs and read the Haggadah at a Seder. Hopefully, I would attend Holy Thursday church services celebrating "The Last Supper", and the reenactment of Christ's washing of the Apostles' feet. I would attend Good Friday's Stations of the Cross, and I would most certainly attend early morning mass on Easter Sunday."
But not this year.
Instead, I will spend this entire Holy Week/Passover in Atlanta with no family or friends save my dog Henry. What will I do?
I will read the stories of Abraham, Isaac and Jacob, of Moses and the Pharaoh, of the ten plagues, and of the Israelites fleeing Egypt into the Promised Land. I may eat some stale matzoh. Perhaps even read the Haggadah, which tells the story of the Exodus from Egypt.
I will also read of Christ's 40 days self-imposed isolation, fasting and prayer in the desert (and not because of a Coronavirus quarantine).
And I will read of Christ's Last Supper with his beloved and betraying disciples, his washing of their feet, of his command that the apostles 'love one another as I have loved you" (John 13:34)
I will not eat meat on Friday, perhaps fast until supper, and certainly 'unplug' on from 12pm - 3pm as I was 'forced' to do as a child (I had to sit quietly for 3 hours on Good Friday in my room without music or secular distractions—-I hated it!).
On Sunday, I will try to 'attend' an Easter Sunday mass on TV. And I hope to 'Zoom' with my family Sunday afternoon. And eat and drink a lot on Sunday night to acknowledge Christ's resurrection…hallelujah!
It may not be such an awful Holy Week after all…just different.
Many of you might be able to relate to some of these things, and some not at all. I write of this week from my own reflections of personal traditions. The older I get, the more important these traditions are to me.
Even if you can't relate to any of the above reflections, perhaps this time of year brings to you wonderful memories of Easter egg hunts in a park, or of the first springtime smells of a lilac bush, or the first sightings of a robin, or daffodil, or hearing Copland's "Appalachian Spring" and understanding (and hopefully feeling) the joys of rebirth and renewal.
For regardless of your faith or lack thereof, spring seems to be a time of rebirth. I wish you all a Blessed Spring!
-Peter